Time was when we thought that getting a massage was a luxury for a few selected people who have the time to lounge around, but not anymore.


If you are young and full of energy maybe you may not see the need for a massage chair, but if you are middle-aged or perhaps you are even young but you have to sit for long in front of a computer, then you will see why it is important to have a massage chair.
A massage chair is a necessary acquisition if you value your health and you want to have that vitality you need to tackle your day.
The Osaki OS-Pro admiral massage chair is a sleek massage chair equipped with the right type of features that will make your massage a wonderful experience. It has about 16 auto massage functions and a 3D massage feature, it also offers a full body air massage, with a complete calf massage that is hard to match.
This chair has quite a lot of features that anyone that loves to get a massage in a massage chair will be quite happy to have. The real differentiator in most massage chairs is the number of features they have.
Most people choose their massage chairs based on their needs. For example, if the main reason you want a massage chair is that you have sciatica, you are more likely to choose a massage chair that has very good massage rollers that can give a deeper massage.
If you desire a full-body airbag massage experience that completes your day and leaves you feeling relaxed, then the Osaki OS-Pro admiral massage chair is the deal for you.
Here are the features of the Osaki OS-Pro admiral massage chair that make it different from other types of massage chairs. 
Features of the Osaki OS-Pro Admiral Massage Chair
3D Massage Mechanism
A massage chair is called one because it can offer a massage with massage rollers. Massage rollers are like the thumbs and palms of a masseuse which they use to deliver massage to their clients.
The Osaki OS-Pro admiral II massage chair has 3-D massage rollers that move in 3 different directions to reach different parts of the body. The 3-D massage rollers move forward backward and sideways, it also protrudes. this is what gives it the mechanism to be able to deliver an effective massage.
Some massage chairs have just a 2D roller massage system that moves only up and down, making it impossible to reach father areas of your body that do not run along the length.
The 3D massage rollers are the next generation enhancement on the Osaki OS-Pro admiral massage chair that makes it worth the amount you spend to purchase it.
The massage roller system has different adjustable features which help you configure your massage to how you want it.
It has 5 levels of speed to control the speed of the rollers, it has 6 levels of intensity to control the intensity of the rollers. It also has a function that allows you to control the length of the rollers as it extends out of the massage chair. This feature helps you to target deeper massage issues that ordinary massage will not address.
Full Body Airbag Massage
Massage chairs would have been boring without airbags, really because who wants just pure massage without the comfort of those airbags huffing and puffing on different parts of your body?
Osaki OS-Pro admiral massage chair is equipped with 24 airbags that are stationed at different contact points on the massage chair. The positions where you will find the airbags are the arms, lower back, feet, and calves.
The air compression massage helps to loosen tight knots in your muscles by twisting and stretching them. The airbags inflate and deflate at defined airbag intensity to provide the pressure that is applied to your body. The airbag body massage experience delivers a relaxation experience that is hard to match.
The multiple airbags located at various strategic positions help to deliver a full body massage experience that is out of this world.
SL-Track Massage
Massage chairs can deliver an effective massage because they have what we call an S or L track system on which the rollers ride on to be able to move through the length of the body. Without this track system in place, the rollers will not be able to deliver a great massage because it will be static.
The massage chair has what we call the SL track system, it is a track system that combines the functions of both the S track and the L track system to form the SL-track massage system.
The S-track system is designed to contour the model of the spine which is not often straight but in an S format, this is to ensure that the rollers which ride on this s track can deliver a great massage by tightly fitting into the curvature of the spine.
The L-track feature is designed to extend the rollers from the base of the neck to the glutes and to the upper hamstrings, an area of the body that often requires much deeper massage because of the muscles. The upper hamstrings are the thigh muscles while the glutes are the buttock muscles.
The SL track massage system is therefore much more advantageous because it delivers a much better massage option than the normal singular track systems. The SL-track massage chair is one that a lot of massage chair lovers desire because it delivers double the benefits.
Most SL track massage chairs will usually have the 3D massage mechanism accompanying them.
Zero Gravity Position
Zero gravity position was inspired by NASA and has been incorporated by massage chair makers to help users reduce the pressure on the lower back, brought about by the effect of gravity.
The lower back is what supports the muscles of the back and hence tends to get stiff and sore with age producing a disease called lower back pain. Osaki OS-Pro admiral massage chair makers use the zero gravity position option in the massage chair to alleviate this problem.
The Osaki OS-Pro admiral massage chair can be tilted via the use of a button to attain the zero gravity position. The zero gravity position confers a weightless feeling to the user hence helping to remove the pressure often experienced in the lower back. This helps to relieve pain and enables a great relaxation experience.
The zero gravity mode helps the complete weight of your back to be virtually supported by the backrest of the massage chair, this increases the intensity of the massage and helps you to maximize the massage effect.
The zero gravity mode also increases the rate of blood circulation in your body because the whole body is raised to the heart level, this increase in blood circulation helps to flush toxins from your body.
There are two ways to get into the zero gravity mode, you can use the remote control or the manual control which is activated by pushing back on the headrest to get the chair to recline until it gets to a fully reclined position.
Once you want to get back to the normal seating position of the massage chair, you can use the remote to move the massage chair forward, this will make it exit the fully reclined position to the normal seating position.
Osaki OS-Pro admiral massage chair delivers a wonderful massage experience via the use of its zero gravity mode. Many massage chairs have also adopted this function, it remains to see how they compare to this chair.
Body scan Technology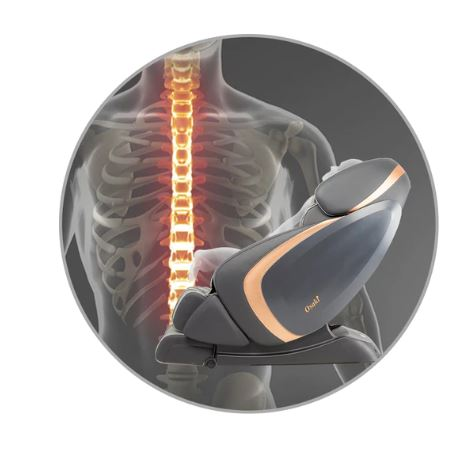 One of the best features you can find in a massage chair is its ability to correctly map the different acupressure points in your body to deliver an effective massage.
A massage chair that is not able to target rollers to the points where you need them will be useless to the owner.
Osaki OS-Pro admiral massage chair has a body scan technology that performs an auto body scan to detect where your acupressure points area and also detect your body size.
The information gotten during the auto-body scan is used to correctly map the various parts of the massage chair to suit your body type.
When the auto-body scan is done, the massage chair can correctly fit your body and will help to stimulate acupuncture points during a massage.
Why is it important to stimulate acupuncture points in your body? because when you do so, it stimulates the central nervous system which then releases biochemical compounds that promotes wellness and enhances healing in your body. A great auto-body scan enhances your ability to get the benefits of your desired massage.
Unique Foot Roller Reflexology Massage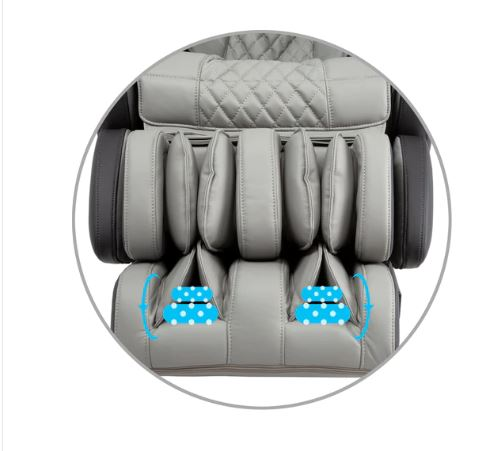 Reflexology is a type of massage given to the feet, hands, and ears, this massage works by the application of pressure to these points to release tension and relieve pain.
Osaki OS-Pro admiral massage chair uses foot rollers and airbags to deliver an effective foot massage for its users. Osaki OS-Pro admiral massage chair has triple-spinning reflexology massage rollers that are located at the feet. These rollers perform kneading massage on your feet.
As the foot rollers are spinning, the airbags inflate also pushing the feet down into the footrest to ensure that there is maximum contact during the massage.
The footrest also contains an ankle grip function that ensures that your feet are in place during the massage. With the ankle grip function in place, you don't have to worry that your feet will be forced out of the footrest due to pressure from the massage chair.
Foot massage helps to stimulate the muscles, eliminate pain and release tension from your body.
Extendable FootRest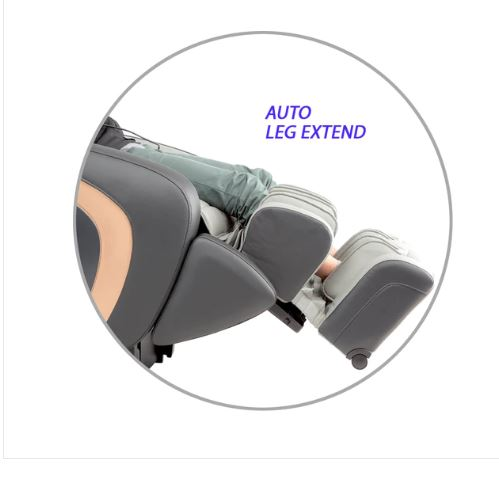 Ever sat in a massage chair that was uncomfortable because it could not accommodate the length of your leg? I am sure it was not a pleasurable experience. Osaki OS-Pro admiral massage chair is equipped with an extendable footrest that extends outwards up to 7.1" and retracts according to how you control it.
The foot component can be extended till it reaches your optimal leg length. Once your seat is in the chair, the extendable footrest will use its leg scanner to scan your leg to adjust the extension to your desired position.
The leg component can be manually controlled by simply pushing your feet into the footrest to adjust it to your optimal leg length, if you want to retract it, you push your feet back to retract it. The extended footrest can also be adjusted using a remote control.
Space-saving Technology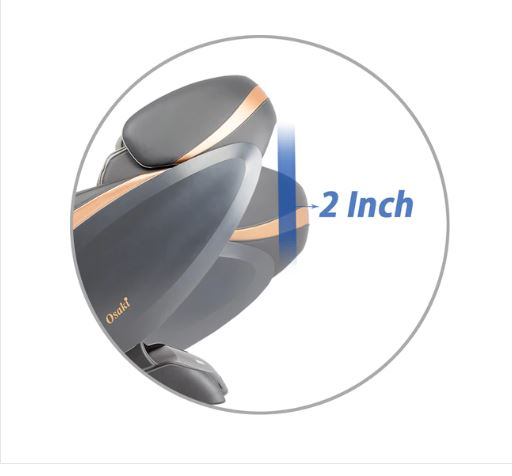 If you are considering buying a massage chair for your home, one of the first things you want to consider is where you will likely put your new massage chair. This is because massage chairs are bulky and cannot be squeezed into just any space.
If your living space is tight you may want to go for a space-saving technology chair that allows you to maximize your space.
Osaki OS-Pro admiral massage chair has a space-saving technology inbuilt in their massage chair that requires just a 2-inch outlay from the wall where your massage chair is. This means that it takes up little space hence allowing you to save space for other things.
The space-saving technology enables the chair to recline backward just two inches and even if you want to use the zero gravity mode, the remainder of the chair length sits on the base of the massage chair hence maximizing the use of space while you take a massage.
Most massage chairs now deploy space-saving technology to ensure they satisfy their customers but some massage chairs like the Osaki OS-Pro admiral massage chair use a little less space than others.
If your living space is tight and you have wondered if this massage chair will fit your needs, take a good measurement of where you want your massage chair installed and see if the space-saving technology installed in this chair is worth it.
Heat On Lumbar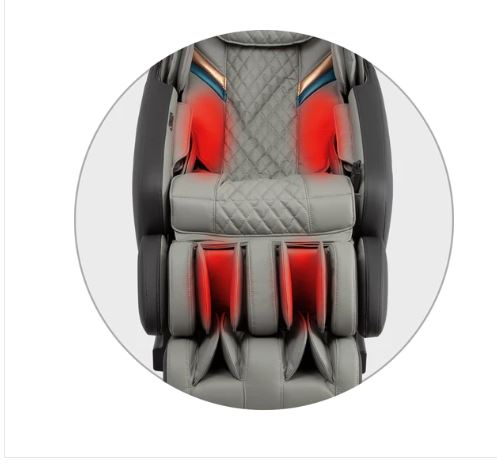 Heat when applied during massage helps to loosen tight muscles and make them more pliable. The effect of heat during massage can not be over-emphasized, heat increases blood circulation because it raises the body temperature and enables blood to flow optimally, this, in turn, engenders the flushing of toxins from the body.
Osaki OS-Pro admiral massage chair has heating pads located at the lumbar region of the chair and also at the leg component of the massage chair. The heating pads located in the lumbar region provide a soothing massage to your waist region, this is especially important to you if you suffer from low back pain.
Heat therapy often acts as an analgesic and can relieve pain, it can also loosen up joints if you struggle with arthritic pains that impede your range of motion.
16 Auto massage programs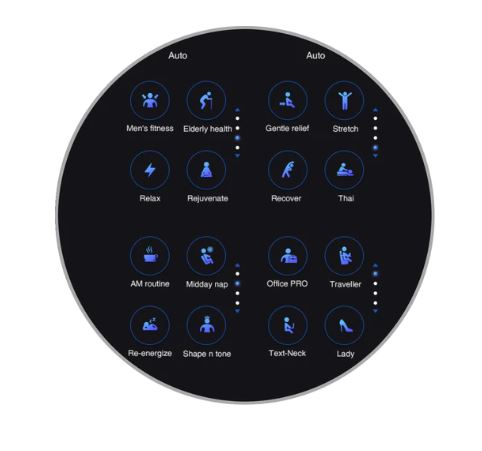 When it comes to auto massage programs in the Osaki OS-Pro admiral massage chair, you are spoilt for choice. No matter what type of massage you may want, you sure can find it in the 16 massage types provided. If there is anything I love about this massage it is the variety of auto massage programs that comes with this massage chair. Here are auto massage programs available
Office Pro- For those who work in the office especially if you seat down for long periods
Text Neck- For those that suffer from neck pain as a result of having their head in the forward
position for long periods
Traveler: Provides options for massage for those who travel a lot and need that massage to release tense muscles
Lady: Provides options for female massage
AM routine: Massage option for an early mornings
Mid-day nap: For mid-day massage when you are feeling tired
Re-energize: Enables you to energize your body after a hard day's work
Shape n tone: Provides massage that will enable you to maintain your shape and tone your muscles
Men's fitness: This massage option is vigorous and helps to maintain men's fitness
Elderly health: This option is for elderly people who need to engage in massage to keep their bodies healthy
Relax The Relax massage type helps you to relax
Gentle relief: The gentle relief option provides massage with a gentle relief
Rejuvenate: This option rejuvenates your body after a massage
Stretch: This option provides a stretching effect on the body's muscles
Recover; This option helps you to recover after a massage
Thai massage: This option combines acupressure, passive stretching, and compression to deliver a massage that increases the range of motion and improves posture
6 Manual massage Styles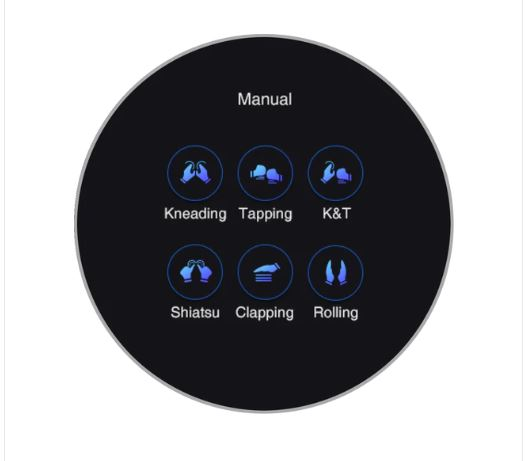 While we are still enjoying the above auto massage programs, we still have 6 manual massage styles that you can use in case you do not want any of the auto massage programs. Osaki OS-Pro is packed with massage styles that will give you a great massage experience.
What I love about using these massage styles is that you can pick a particular massage and direct or target it to a specific area of your body where you want to address it( this is called spot massage), you can also massage by sections of your body.
Let's look at the different styles of massage in this chair
Kneading: The kneading style provides a soothing and kneading application style which occurs by applying pressure that lifts that muscle in a circular and upward motion. This style helps to loosen collagen fibers and release tension in muscles.
Clapping: This massage option helps to loosen mucus from the lungs when it is performed on the upper back and lower back, it also aids expectoration.
Tapping: This is s form of percussion massage style that helps to relieve deep soft tissue pain
Rolling: This massage option helps to release pain, increase flexibility and loosen the skin.
Shiatsu: This massage helps to relieve tension in specific aspects of the body via the application of pressure.
Kneading ad tapping: This massage option uses a combination of kneading and tapping to deliver maximum massage results.
While the auto massage programs are great, I love that you can choose a particular massage style to suit your need without being forced to use the auto massage option.
Bluetooth Speaker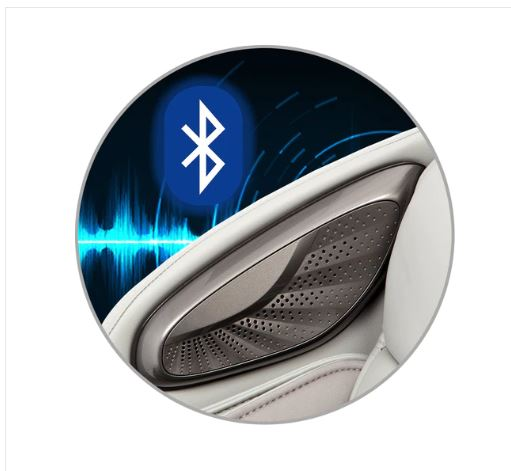 Osaki OS-Pro admiral massage chair has Bluetooth technology embedded in it that enables you to listen to music while you get a massage. Certain types of music have been proven to have a relaxing effect on our bodies and minds, hence its use in most massage parlors.
You can connect to any music of your choice with only one Bluetooth connection per time. The Bluetooth technology comprises high-quality speakers and LED light that emits from the high-quality speakers that are usually stationed by the side of the headrest. The LED light control features enable you to know when the Bluetooth device is connected to the massage chair and when it is off.
LCD Control Remote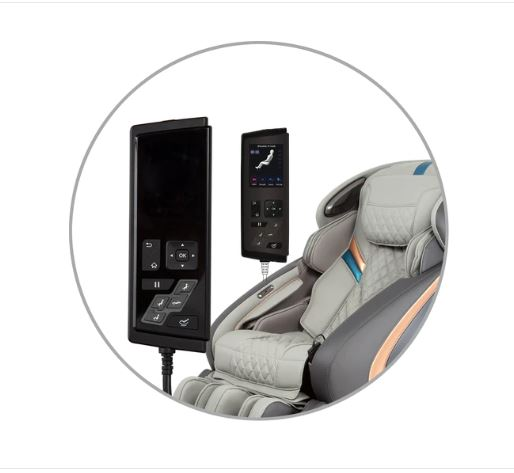 The LCD control remote is a slim and easy-to-handle feature of the massage chair that is used to control the massage chair. With the LCD control remote, you are in complete control of your massage experience because you can use it to choose the different features, adjust the settings of the chair, and also shut down the chair when you are done.
USB Charger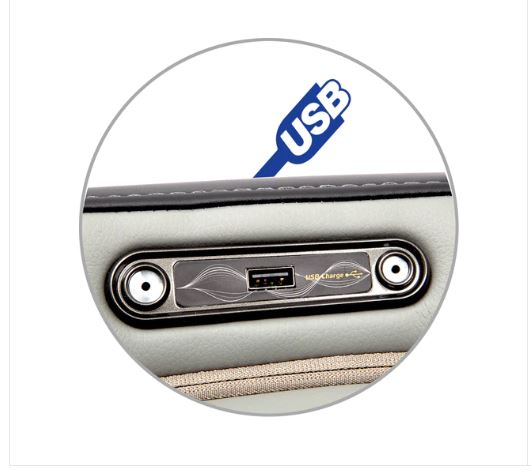 The beauty of using the Osaki OS-Pro admiral massage chair regularly is that you don't have to be disconnected from the outside world while you take a massage, in these days of working from home you can have a quick massage at home while using the USB charger to charge any device that you are using while on the massage chair.
If you want to also receive phone calls even while in zero gravity mode, you will be able to because the USB charger will help keep your phone on.
Multilanguage Support
The Osaki OS-Pro Admiral also offers a multi-language support ability in its remote control, this is to make it easier for anyone that speaks any of these 3 languages to be able to use it effectively. the languages offered are Korean, English, and Chinese.
Specifications
The Osaki OS-Pro specifications are as follows
Dimensions (W*L*H): Upright: 30.7'' by 64.2'' by 50" Reclined: 30.7"by 74.8"by 40.6"
Seat Width: 18"
Shoulder width: 20"
Weight: Net: 239lbs Gross: 284lbs
Length of wire: Controller wire: 59.0" Power supply wire: 70.9"
Power: 110W
Rate Voltage: 110V-120V/60Hz
Conclusion
Osaki OS-Pro admiral chair is one of the best Osaki Massage Chairs with some very unique features that make it quite attractive. While there are other massage chairs in the market, I like the fact that you have a range of 16 auto massage options to choose from you can hardly find that in most massage chairs that are available in the market.
The retail price for this chair is $4399 a good price for the number of features that you get from it. If you are looking for a massage that will suit your massage needs, The Osaki OS-Pro Admiral 2 is what you should be looking at.
Another more important factor is the fact that you get a 5 years warranty from Osaki, most massage chairs give you only 3 years. You also get free shipping with this chair if you are ordering from any of the lower 48 states in the US. You can also get curbside delivery or an in-home delivery or a white glove delivery with assembly for minimal cost.
---