If you are looking for a massage chair that packs all the features of a great massage chair and still gives room for that extra tall person, the Titan Jupiter LE is the massage chair to beat.
The Titan Jupiter LE premium provides an incredible massage experience with well-packed features that makes massage an adventure you will want to take again. It provides various massage options and intense heat therapy that enables you to relax and loosen tense muscles.
Titan Jupiter LE is the culmination of the excellence displayed by its precursor Titan Jupiter XL, it is particularly suitable for people with the height range of 5'5'' to 6'6''. This means it is extra large and creates an optimal leg length for very tall people.
Let's dive in and look at other features that make this massage chair notable and appealing.
Features of Titan Jupiter LE premium massage chair
Intelligent Voice control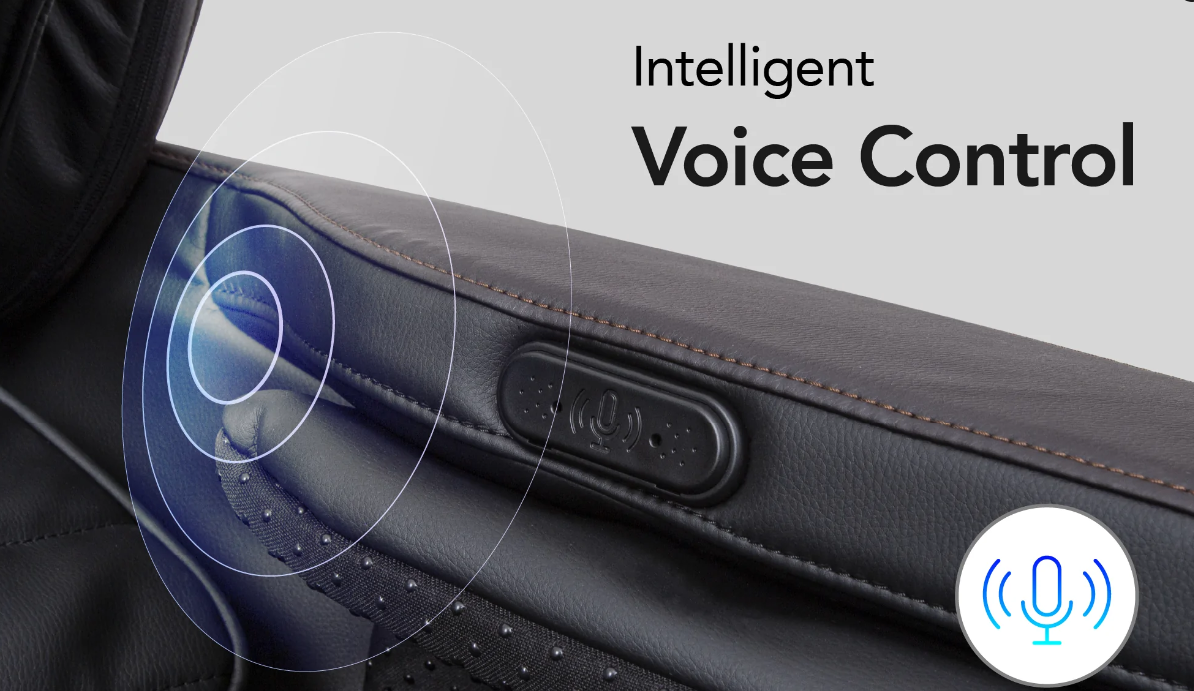 When you want to get a massage, you usually just want to relax and let someone do all the work without lifting a finger. That is what Titan Jupiter LE seeks to mimic by providing a voice recognition function for the massage chair.
The voice recognition function enables you to issue instructions to the massage chair while you relax and let it do the job of massaging your whole body.
The voice control function is activated with a simple 'Hello Kiri' to enable the massage chair to recognize that you want to use the voice mode. Once you say those words, the voice control goes into standby mode expecting further instructions from you. You are expected to tell the massage chair what you want within 8 seconds or it will turn off.
Your voice control instructions could be to let the massage chair go to zero gravity mode or it could be that you want a calf massage, whatever you want it to do, it immediately begins operation. Voice control is a significant way that Titan Jupiter LE differentiates itself from other massage chairs on the market.
3D Massage Mechanism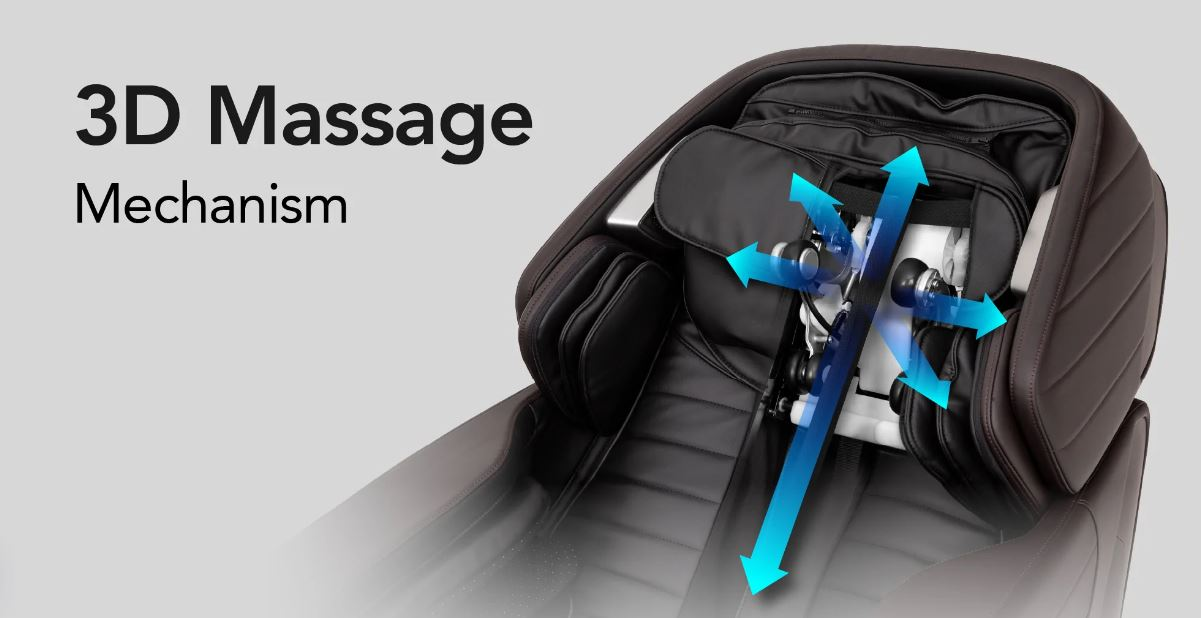 One of the reasons people love Titan Jupiter LE premium is that it offers a 3D massage. 3D massage happens when the rollers do not only massage up and down your body but also sideways to give the effect of a masseuse pressing down on your body.
3D massage chairs became popular as customers sought a massage experience that could provide deep tissue massage and mimic lifelike massage. The 3D mechanism in the Titan Jupiter LE premium massage chair comprises 3D rollers that are heated with infrared heat.
The protrusion of the 3D roller and the inflation of the airbags is what provides deep tissue massage, hence relieving pain and loosening tense muscles.
The 3D massage mechanism happens when the massage rollers move along the roller tracks to massage different parts of the body from the neck to the glutes.
The massage rollers can be adjusted to 5 different levels of speed. This means you can set your massage rollers to provide a soft relaxing massage or you can set them to provide an intense massage by increasing the speed.
The Titan Jupiter LE massage chair also offers 3 different width adjustments for its massage rollers, enabling you to determine what width you like for your massage rollers.
Airbag Massage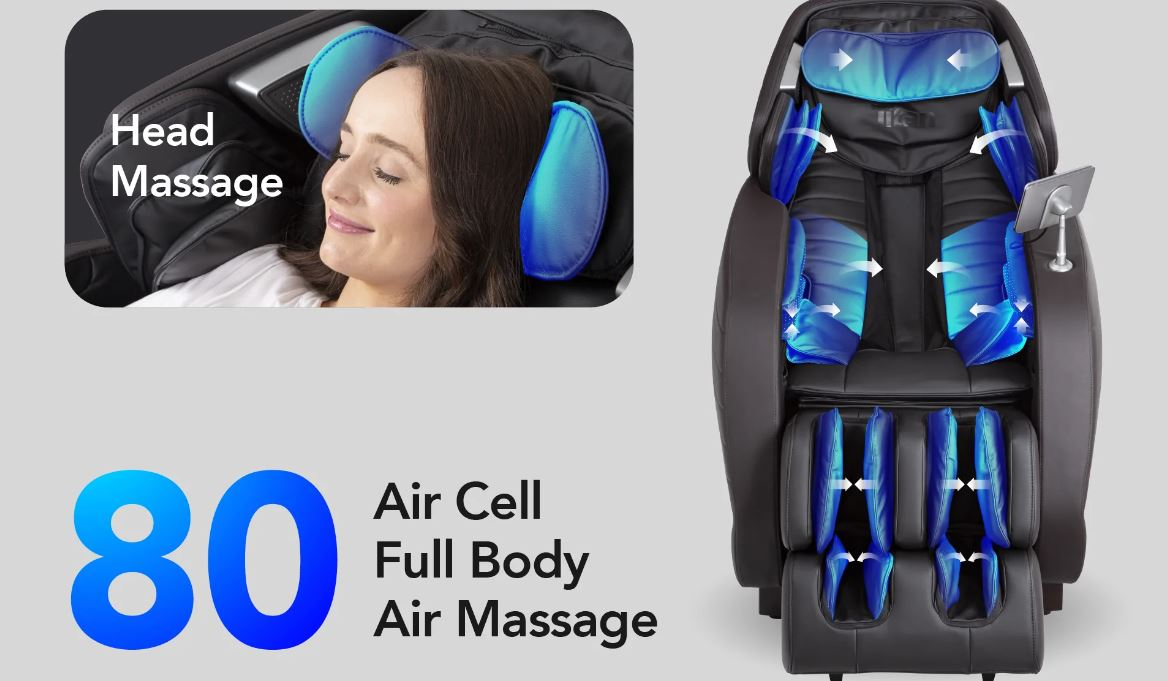 Titan Jupiter LE massage chair also provides full-body airbag massage. It features 80 airbags cells positioned at strategic points to offer that intense massage experience that we love to have.
The airbags inflate and deflate to produce pressure applied to the different areas of the body. The entire airbag system is positioned at the following points: head, shoulder, waist, arms, leg, and feet.
This enables the user to feel the intensity of the airbags massage at all major points on the body. If you suffer from sciatica, increasing the airbag intensity will help you to relieve sciatic nerve pain.
Airbags provide air compression massage via the different levels of airbag intensity. The airbag intensity has 5 different levels of adjustment to ensure that you can pick whatever intensity you want to suit your needs.
If you want a waist stretching massage stretch you can increase the intensity of the airbags that are targeted at the waist to help you feel relief. People who suffer from low back pain often appreciate the use of airbags stationed at the waist region because it helps to loosen lower back muscles which often become stiff due to age.
Air compression massage is a very good way of providing massage for areas that the massage rollers cannot reach, for example, the head.
Infrared Heat Therapy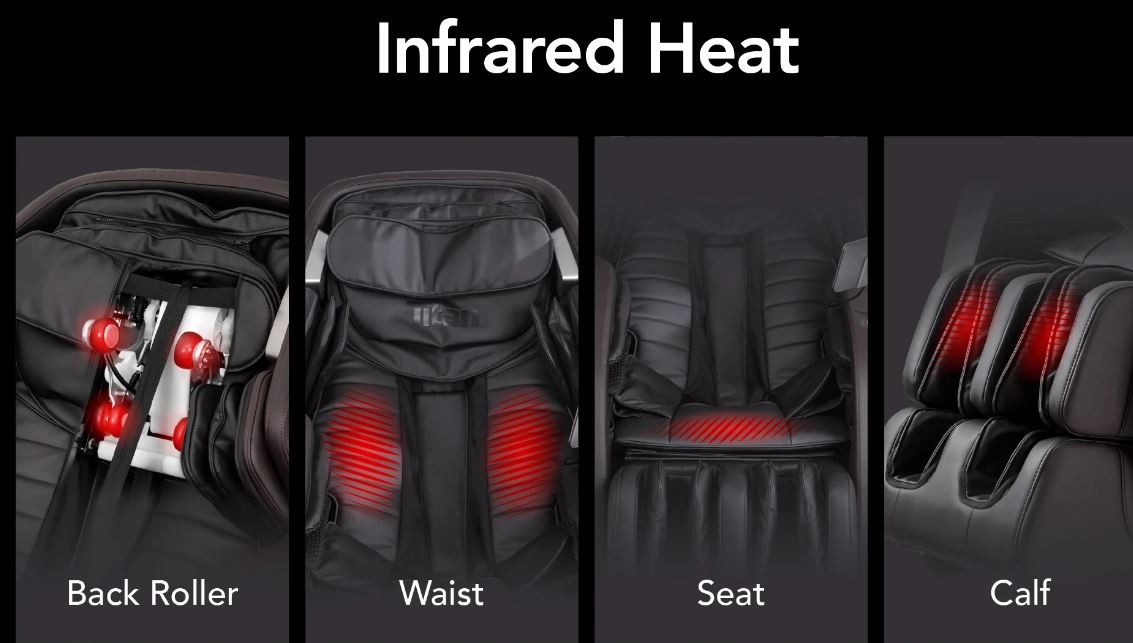 Heat therapy is a major factor when it comes to revitalizing muscles in the body. It helps to increase blood circulation in the body and also loosens stiff muscles hence making it pliable during a massage. Pliable muscles promote smooth massages.
The Titan Jupiter LE premium massage chair offers heat therapy in very strategic places in the massage chair namely: the arms, back, waist, and calves.
Heat therapy often forms a cocoon of heat around the body during a massage, this initiates relaxation and relief.
Automatic Body Scan Technology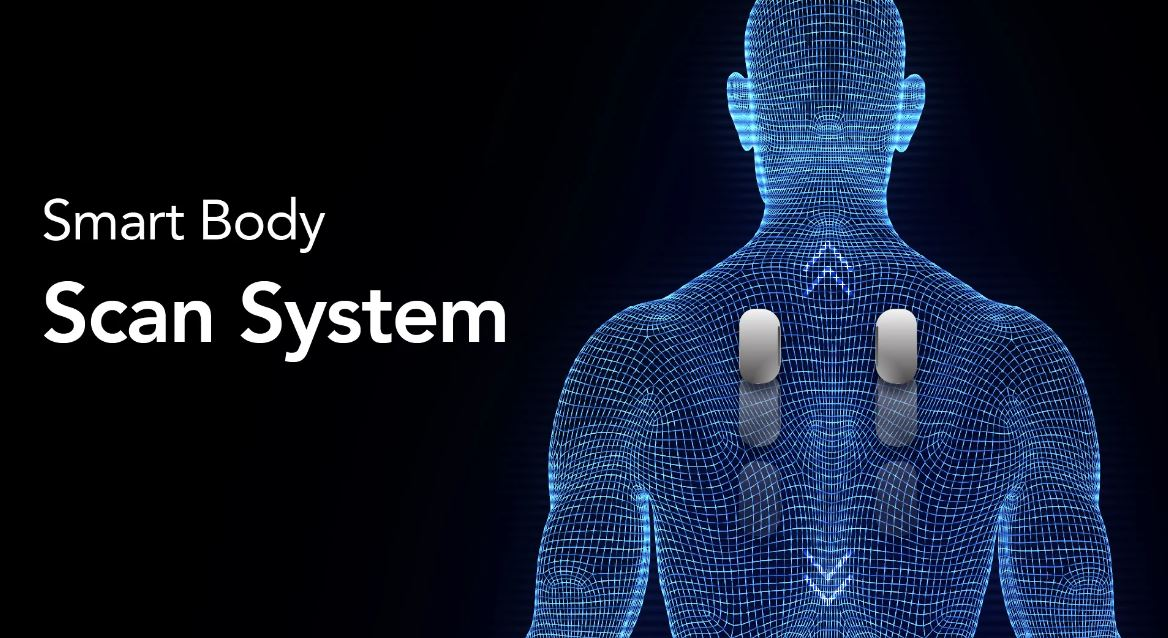 The Titan Jupiter LE premium massage chair is equipped with body scan technology that performs a body scan on your whole body. This is done automatically to ensure that the massage chair fits your size.
The Titan Jupiter LE is an extra large chair that was built to accommodate users within a defined height of 5'5'' to 6'6'', using its scanning technology, it can correctly map the different aspects of your body and adjust the massage chair to suit your needs.
The body scan is a means of ensuring that the different aspects of the chair benefit the user to the maximum.
L-Track Technology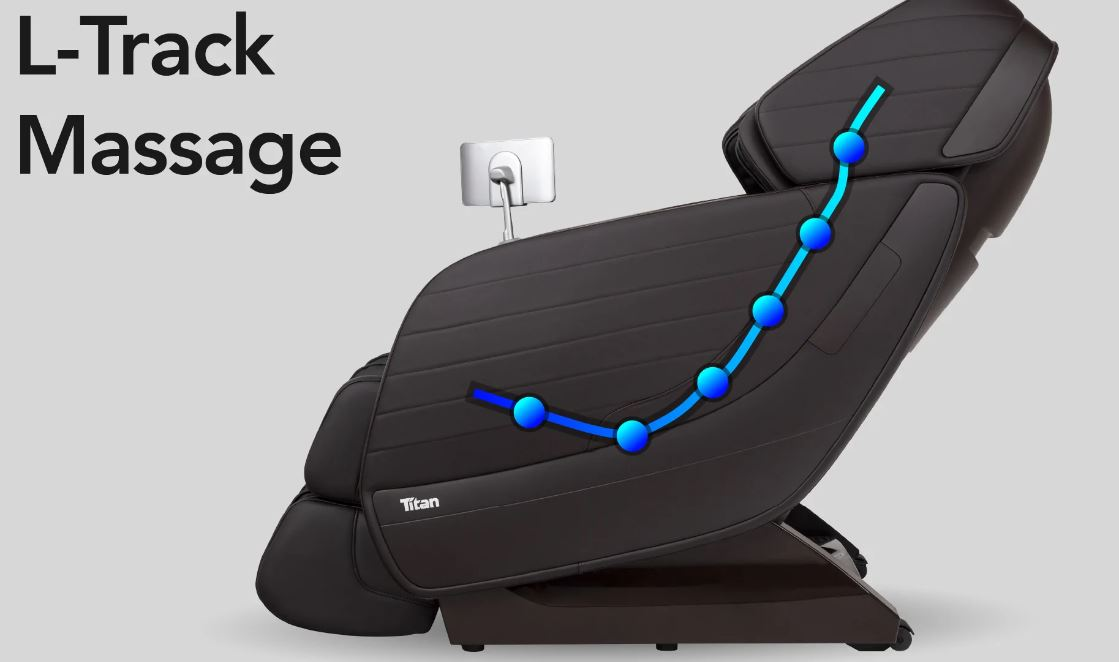 Massage chairs are often equipped with tracks which are considered the backbone of massage chairs, these tracks enable the massage rollers to move up and down to provide a soothing massage to the users. Without the tracks on massage chairs, the massage rollers would have been static.
The Titan Jupiter LE premium massage chair is equipped with an L-track mechanism that allows the massage rollers to move from the base of the users neck down to the glutes.
If you suffer from any type of muscular pain, the L-track technology will ensure that the massage rollers reach the muscles around the glutes to perform an effective massage.
The rollers also work with airbags to provide a roller and airbag massage that gives an incredible massage experience.
Zero Gravity Reclining.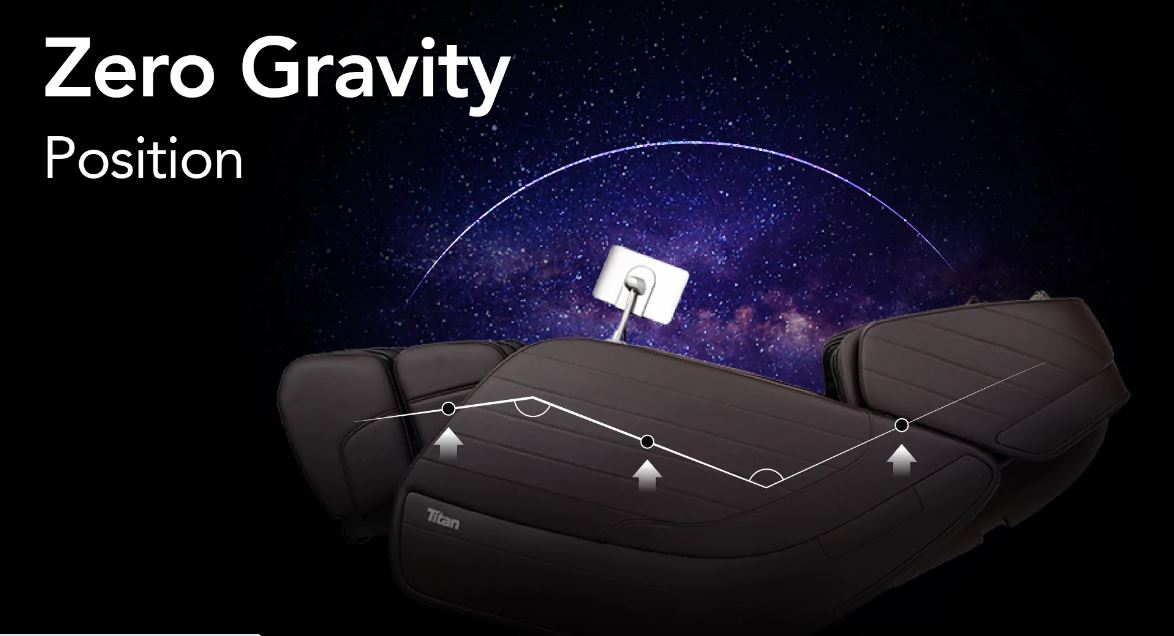 Zero gravity reclining enables users of a massage chair to attain a weightless feeling while taking a massage. The reason for this is that it relieves the back muscles and helps to relieve tension.
The back muscles are what support the back so when a person takes on a zero gravity reclining position, the weight of gravity on the back muscles is removed and the weightless feeling makes the back muscles relax and can also induce a relaxing massage sleep.
Titan Jupiter LE premium massage chair can recline to zero gravity at the command of the voice control function or with the touch of a button, it can also be controlled manually or through the use of a remote.
Once the command has been given; the Titan Jupiter LE premium massage chair will recline automatically without further action from the user. The user can adjust the gravity recline to various levels that are suitable.
10 Auto Massage Modes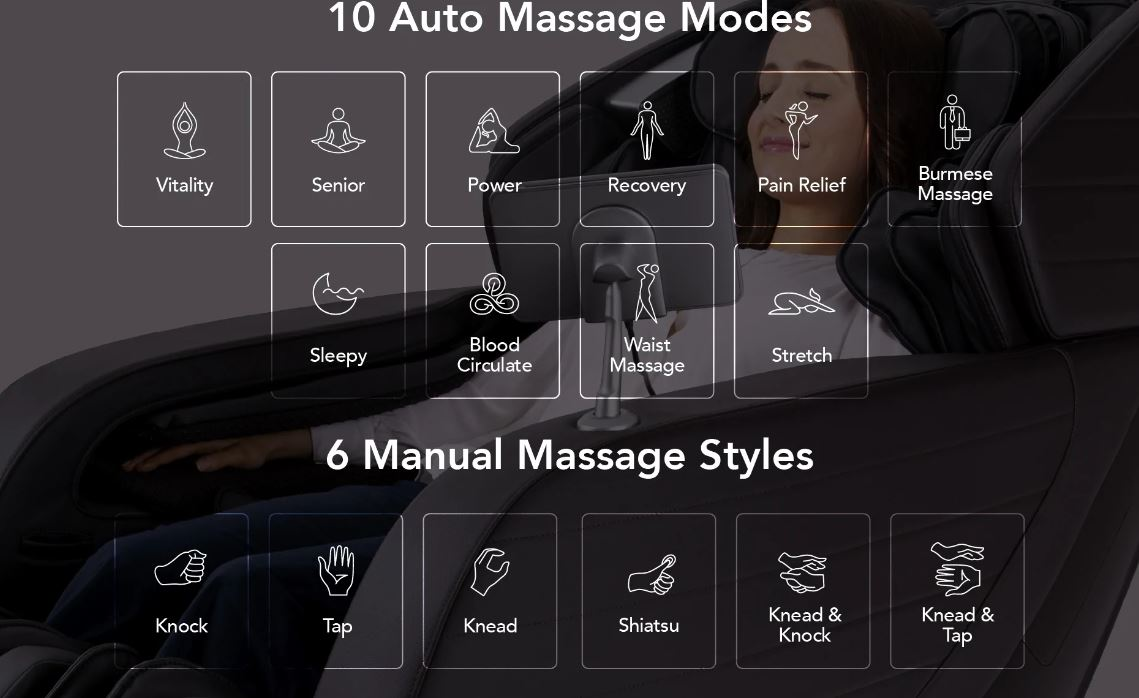 The Titan Jupiter LE has 10 auto massage modes, an auto massage mode enables you to choose different modes of massage that you want depending on your needs. The following are the Auto massage modes available:
Vitality: Provides 8 minutes of revitalizing massage to get you ready for an intense massage
Senior: Provides 20 minutes of full body mild massage
Power: The power massage mode provides 20 minutes of intense massage using different massage techniques which we will mention later
Recovery Massage: This mode provides intense massage recovery for 20 minutes
Pain relief: This mode is specifically for those who may need relief in certain parts of their body, it provides 20 minutes of pain relief massage
Burmese massage: Burmese massage is a type of massage that involves techniques that relax and stretch the muscles. The Burmese massage option provides a 20 minutes session of relaxing massage.
Sleepy mode: Provides 20 minutes of soft relaxing massage that can make you fall asleep. Massage sleep can be quite satisfying after a hard day's work.
Blood circulation: This function provides a massage that enables the free flow of blood throughout your body
Stretch: This function provides a stretching massage for about 20 minutes
Apart from these auto massage functions, the Titan Jupiter LE premium also has 6 massage styles namely; Knead, Shiatsu, Knock, Tap, Knead/Tap, and Knead/Knock. You can use any of these massage styles either with auto or manual mode.
Dual Foot Action Massage
If there is anything one suffers from after a tiring day, second to low back pain, it is tired feet. The Titan Jupiter LE premium is equipped with dual-action foot massage rollers that give you a thorough foot massage.
The massage chair delivers a dual-action foot massage via the massage roller and airbag massage. The foot massage rollers work by deploying foot rollers that move in opposite directions hence helping to massage under the feet and the arches of each foot simultaneously.
The airbags inflate as the massage is going on, this presses the foot down on the spinning rollers increasing the intensity of the pressure applied during the massage.
These two actions combine to give an incredible foot massage that brings relief to tired feet.
Extendable Foot Rest
The Titan Jupiter LE premium is equipped with an extendable footrest that extends outward once you press your feet on the footrest. It offers an extension of about 12.6", which makes it easy for people with long legs to be able to get an optimal leg length for themselves when using the massage chair.
The extendable foot component can also retract via the same manual motion of pressing backward on the footrest. The extendable footrest is a part of Titan Pro Jupiter that allows the user to adjust his or her leg length to the desired position.
Space Saving Technology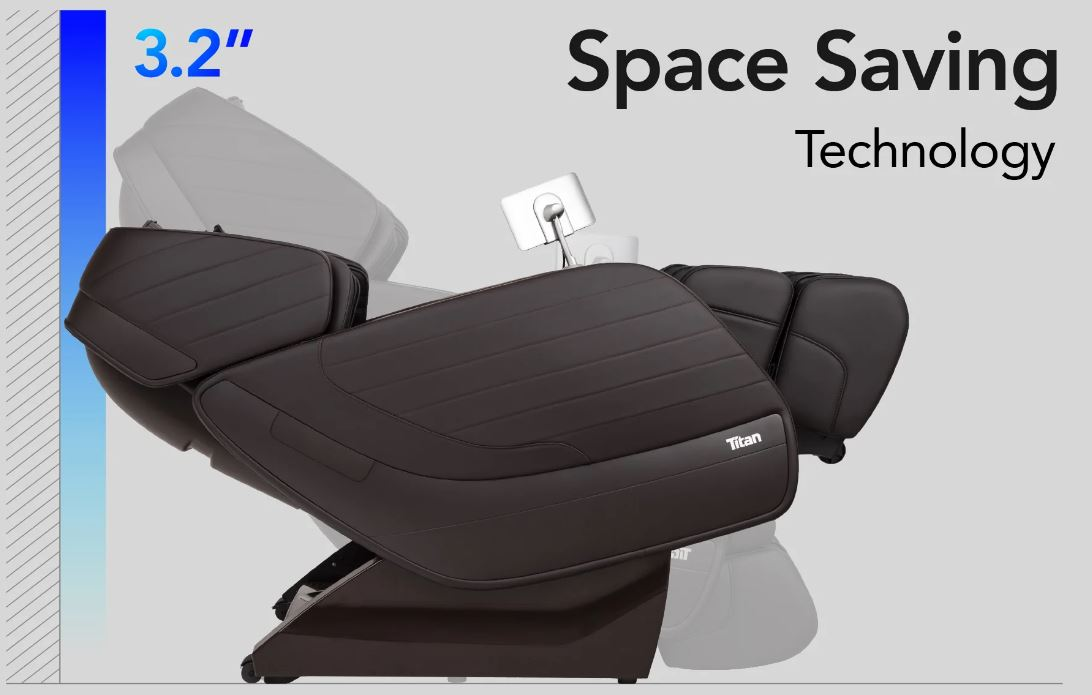 When choosing a massage chair one of the important factors you should consider is the space you will need to store your massage chair. If you get a massage chair without enough space to store it, you may find that it becomes a problem for you in your home.
The Titan Jupiter LE comes equipped with a space-saving technology that enables you to maximize your living space with just a 3.2'' outlay from the wall offering a more space-saving option to you.
This means that your chair will only need that clearance to be able to serve you comfortably. If you buy the massage chair fully assembled you will require a 32" doorway to get it into your home, while the unassembled box requires a 28'' door to pass through comfortably. The space-saving technology makes it easy for even those that have a tight living space to comfortably use this chair.
Bluetooth Surround Speakers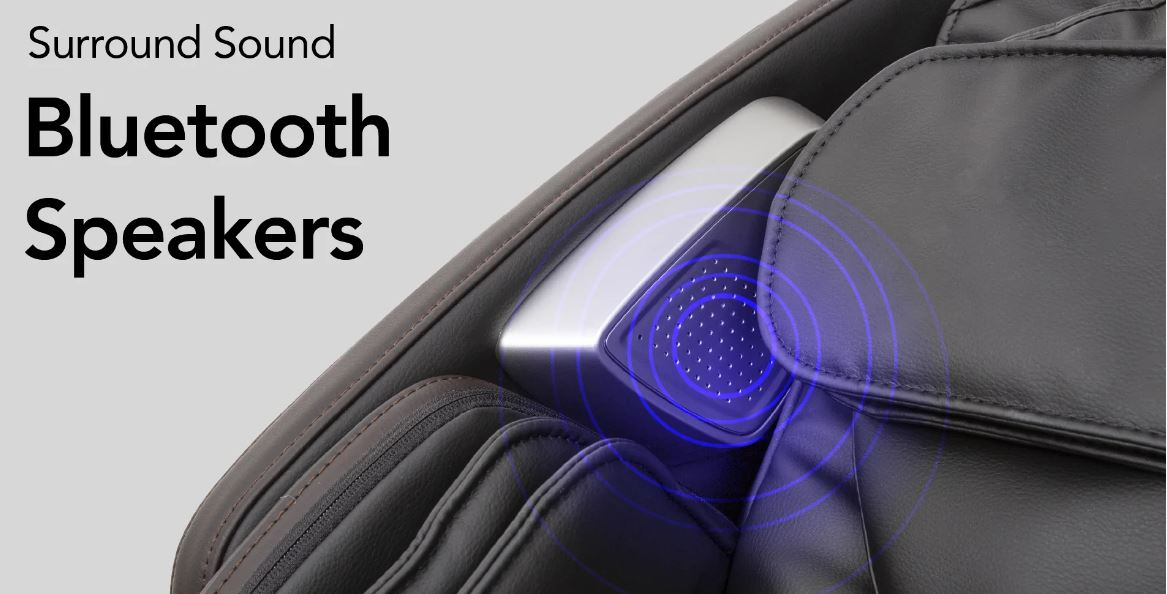 Nothing provides relaxation during massage like the sound of cool music. Music has been proven to have that effect on our bodies hence the need for Titan Jupiter LE manufacturers to incorporate that option in their massage chairs.
Titan Jupiter LE premium has Bluetooth surround speakers that enable you to connect to any music of your choice via your phone.
The Bluetooth speaker also has a noise-dampening technology that reduces surrounding noise while you listen to music so you can thoroughly enjoy your massage.
Touch Screen Control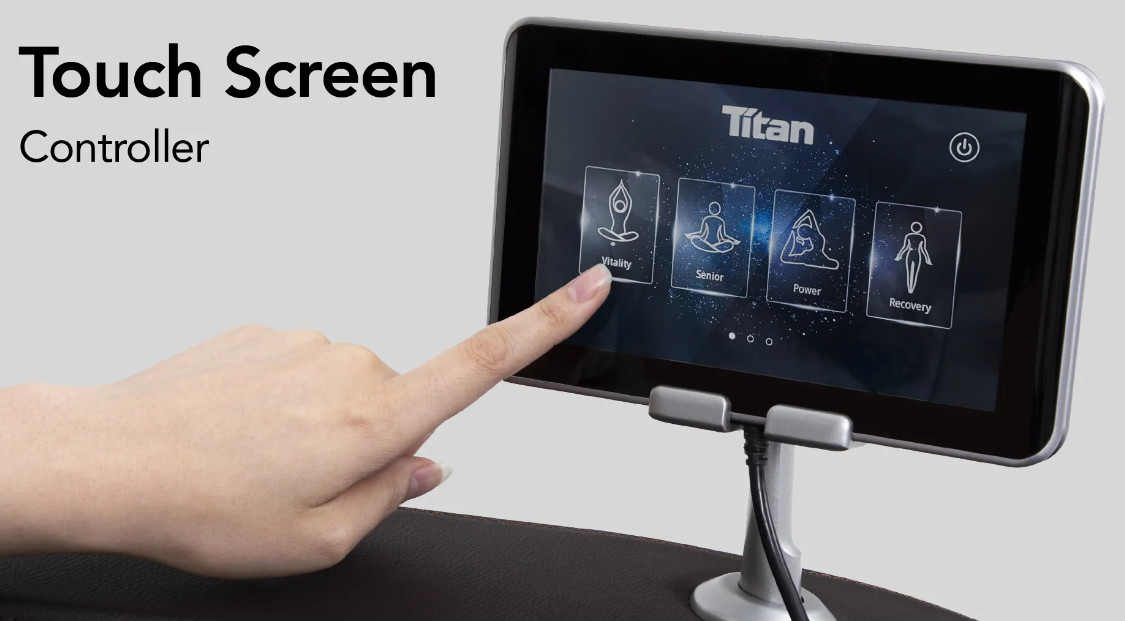 Controlling your massage chair is one action you want to do with much ease, the Titan Jupiter LE premium is equipped with a fully built touch screen controller with an all-touch display panel. This panel helps you to adjust and control the massage chair to suit your needs.
The power symbol on display helps you to power on the massage chair. The back screen light makes it easy to control the massage chair even in a dark room.
Specifications
Dimensions: (W*L*H) Upright: 32'' * 60'' * 50.3'' Reclined: 32'' 71.5'' *37.5''
Width: Shoulder: 19" Seat: 21''
Minimum doorway size: Assembled: 32'' Disassembled: 28''
Weight : Net: 238.7lbs Gross: 311.3lbs
Maximum user weight: 280 lbs
Titan Jupiter LE comes in 3 different colors, Brown, Black, and Taupe. When you buy a Titan Jupiter LE premium you can choose to have a free curbside delivery or white glove delivery for an extra $250.
The warranty options available for this chair are as follows. Titan Jupiter LE offers a 0ne free one-year warranty that covers parts and labor, if you want an extension of that one year, you will need to pay an extra amount to get it. The Titan Jupiter Le also has a user manual that shows you how to assemble it and what to do if you run into problems while using it.
Conclusion
Titan Jupiter LE is a great massage chair with very exquisite features that makes anyone want to acquire it. With all its features it still comes at an affordable price of $5,999 apiece. If you consider how much you will need to pay a masseuse weekly just to get a message you will see why the price is low compared to the benefits.

Check out the Titan Jupiter LE Premium
---